London Blackened Death Metallers LVCIFYRE have just released the official video for "Sun Eater." Check it out right here.
Svn Eater, the new long player from LVCIFYRE, is now available worldwide through Dark Descent Records. The follow-up to 2011's The Calling Depths has been met with enthusiastic praise from reviewers, with CvltNation calling the album "a forceful battering ram of death metal."

Svn Eater
is available on CD, red vinyl and black vinyl. Two different t-shirt designs are also being offered to commemorate the album's release. To order, visit 
www.darkdescentrecords.com.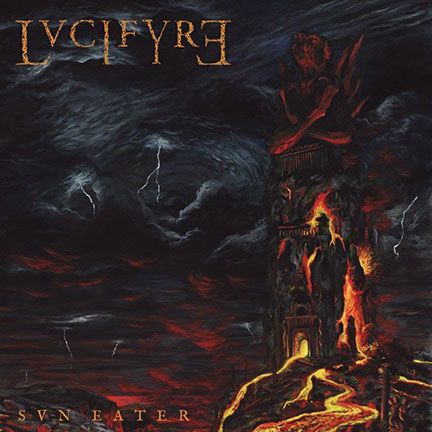 "With their 2nd full-length album, Svn Eater, England's Lvcifyre have sent a blistering statement in the form of 9 crushing death anthems, convoluted by a minor black metal atmosphere sonically and augmented further by a pure darkness and endlessly tormented intensity that laps at the heavens with vengeful flames."– Worm Gear 'Zine
"This might be the darkest, most oppressive piece of Death Metal barbarity to be unleashed upon this world in 2014!"– Voices from the Darkside
"Svn Eater is tar-thick and twisting, but never indulgent of complexity for its own sake. You might be tempted to slot Lvcifyre into a grander narrative, but if you can, give them space, let them breathe their own air. Synthesis can wait when there's unmediated destruction to be had."– Invisible Oranges
LVCIFYRE is a flesh of Liberation in Honour of the Ancient…
T.Kaos – guitars/vocals
Menthor – drums and percussion
A. Dictator – guitar
Cultus – bass