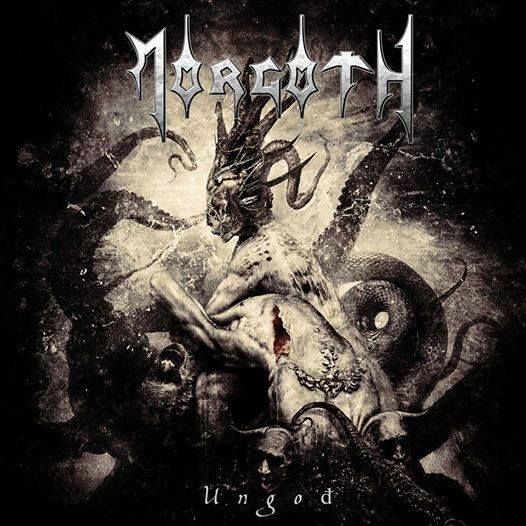 MORGOTH has revealed the cover artwork for their upcoming studio album,Ungod, which is set to be released on March 30th in Europe and April 7th in North America via Century Media Records. The atmosphere of Ungod was perfectly captured by Greek cover designer Seth Siro Anton (PARADISE LOST, SOILWORK, MOONSPELL, etc.), who transformed it into an eerie piece of delusion and despair.
MORGOTH comments on the collaboration: "We are very happy to have worked with Seth for the cover artwork of the album. We knew it wouldn't be very easy to put the title 'Ungod' into a design that is vivid, brutal and aesthetic at the same time. We had received a couple of good different suggestions for the artwork, but Seth's simply was the one who pictured exactly what was already in our minds. It can roughly be described as God drowning in the void, killing its own creation and becoming the 'Ungod' – The dawn of the Antichrist."
MORGOTH has already launched one new track from Ungod. Check out "Black Enemy" here:
MORGOTH line-up:
Karsten "Jagger" Jäger – Vocals
Harry Busse – Lead & Rhythm Guitars
Sebastian Swart – Rhythm Guitars
Sotirios Kelekidis – Bass
Marc Reign – Drums
MORGOTH discography:
Resurrection Absurd EP (1989)
Eternal Fall EP (1990)
Cursed (1991)
Odium (1993)
Feel Sorry For The Fanatic (1996)
1987 – 1997 The Best Of Morgoth Compilation (2005)
Cursed To Live (2012)
God Is Evil Single (2014)
Ungod (2015)
MORGOTH online:
www.facebook.com/MorgothOfficial
#####
If you really would like to support Antichrist, you can just Share our article.
You can also support Antichrist by sending a couple bucks to cover some webhosting expenses. =>>
PayPal