Terrible Old Man "Fungi from Yuggoth"
MDD Records
Well, maybe some old men are terrible, but the music of this German band surely isn't! Person who created their profile on E. M. calls it Hard Rock\Heavy Metal, but frankly there're very few elements of this second genre. There's a huge element of power in this music, but this is also melodic one. Riffs played by Fabian (Schwartz – who's named as Herbert West both on mentioned site and their 'blue f') and Randolph are just like that – they surely sound powerful, you can feel energy emanating from them, but in the same time also create a fine melody. Simon beats energetically and at least from time to time massively. Generally music is brisk and lively. I'd don't call it sophisticated (guys use rather easy devices), but this is variable enough for sure. The last song, "The Pigeon Flyers" is a ballad where we can hear some fascination of Wild West's folklore of, but not typical Country music, I guess. Anyways, logo says to me the same.
But the main fascination and inspiration for these five Germans is poetry of H. P. Lovecraft. To sum it up this is creativity for lovers of Hard Rock, even if it's not in its very classic form here in my opinion.
Oh, holy shit!!! I almost forgot to inform you that TERRIBLE OLD MAN was born in 2014 and 'Fungi from Yuggoth' is second album from the band, released last year. Earlier guys recorded a demo 'Miskatonic Demo' and debut full-length 'Cosmic Poems'.
#####
Support your favorite magazine by donation to cover some webhosting expenses - that will be more than appreciated!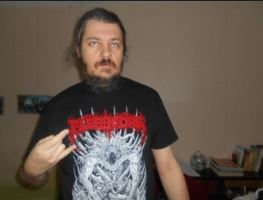 Latest posts by Bart Tomaszewski
(see all)